In this article I am going to share an open Interview with Shiwangi Shrivastava founder of Pensitdown.com. She is one of the quickly emerging and among the most succesful professional Indian female bloggers. Further she has made her name in Blogosphere in very short period of time. So without wasting time let's have a look on conversation with Shiwangi Shrivastava.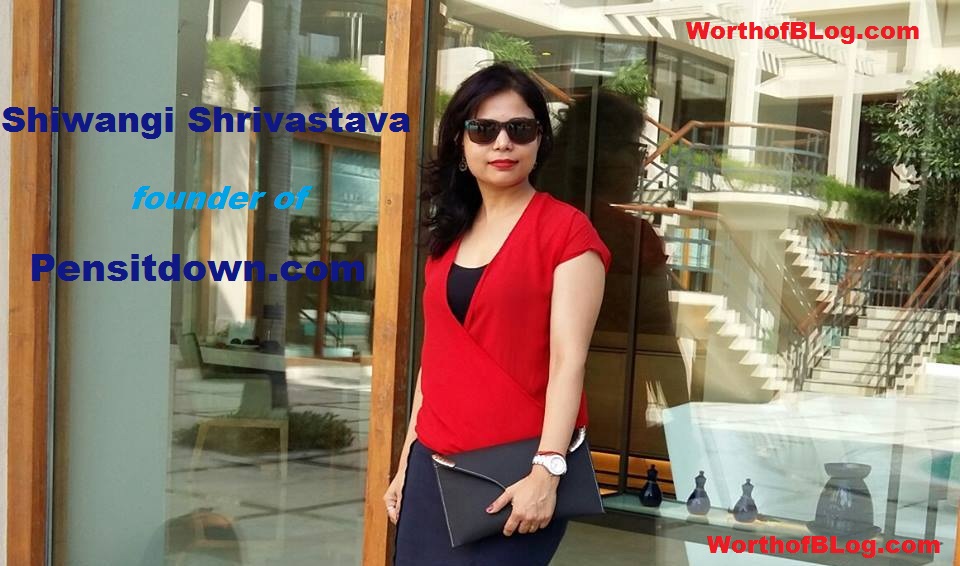 Shiwangi Shrivastava Founder of Pensitdown
1. Please Tell our Blog Readers Something About You and Your Blog
About 2 years ago, I did start the venture Pensitdown blog and the journey is superb so far. I find myself in the blissful moment and gratified whenever I strike a difference between 2 years ago life and after 2 years life. After this analysis I found a big transformation in my life. This is new beginning and this is new Shiwangi Shrivastava. Me and my blog is directly proportional to each other so when I talk about my blog Pensitdown.com, it means I am talking about myself and vice versa.
Also for Read
2. How you Introduce with Blogging?
Through Atish Ranjan, I got to know about this most wanted word Blogging. His contribution in my start up is unforgettable and precious to me.
3. Why you decide to become a Blogger?
When I started blogging I knew, it is the good source of exposing your writing skill and business. But after digging deep into this I came to know that blogging is not bounded to writing or the platform to speak what you think and feel. It is lot more than this and there is no dearth scope in blogging just you need to have right click on the different chains of blogging. I always wanted to be in Media and Blogger is online media as you all know.  Brands follow me for their business promotions online this is sufficient to say that I enjoy every bit of it.
4. How You will Describe Blogging in Your Way?
Blogging is excellent medium to invent ordinary man into extraordinary man. Whether you want to be king of online business without investing lot of money or whether you see blogging as a full time career option for you by analyzing it's another formula online, this is the right platform. Blogging for me is passion and it is entirely different experience doing business online than offline business. In offline business you have several people around you to take things forward to grow in your initiation while in online business you are the whole and soul care taker of your blog and do its setup through taking online help or pro bloggers. So taking your online company or business at powerful level you need to involve in lot of endorsement program, proper marketing, consistency, keyword ranking, SEO, authorities and connectivity through right hit. You need to build an online relationship through your blog in order to get more traffic as well as benefit. This is all I have words for blogging.
5. According to You What are the Best and Worse Things About Blogging?
I always see only the best side of blogging and I do not think there is anything worse about it. Its challenges, competition, success, failure, branding, hard working, all accessories are lovely.
6. How You will Compare Your FIRST DAY of Blogging when You was Newbie and Now When You are EXPERIENCED?
Earlier as a newbie, I was not known to plenty of rules about blogging and its different shades now after being little experienced I know the wonderful magic about blogging and may be after few years I will discover something more magical about it. So this unending process will keep going on till the life. I was known to the powerful tools to engage in blogging. The powerful tools like Affiliate and being associated with Amazon as its vendor in most fascinating and targeted thing for me.
7. What was Your Aim to Start Pensitdown.com & Where You Want to See Your Blog after 2-3 Years?
The aim was only to have my own land in the form of pensitdown where I have my own authority, my own voice with my own thoughts. This platform was generated to give my writing business as I mentioned earlier but now my mind has directed towards plenty of things apart from this. I want pensitdown to be my business card and it should be the source of branding to me, means to give my name and fame at certain level with good shape.
Also For Read
8. What You Achieved from Blogging till Now?
When you see from my eyes, I have achieved lot and yet on the way to achieve plenty of thing in future. With blogging I have achieved personal and professional development in me. When people ask me how much you earn and I have some good figure to share with them that gives me immense pleasure. Besides that when people ask me, are you managed to get that much income while sitting at home.
9. How Pensitdown.com is different from other Similar Niche Blogs?
Pensitdown is an open door platform for those who want to grow their creativity as a writer, blogger with the following updates of tech as well. Though this tech niche blog, but this is the one stop solution to develop the skill as a write and blogger.
10. How You Monetize Your Blog Pensitdown.com?
Adsense, Adspace, Sponsored post and looking forward to monetize this blog also with Affiliate. And absolutely apart from all these I have monetized my blog with having lot of writing projects.
11. According to You What Role Play SEO in Blogging?
SEO is the powerful tool to get SERP. This is the formula where you should not compromise in grabbing it to get acknowledged everywhere. Once you will have good command over this then money will follow you with Affiliate marketing.
12. Which are Most Better Ways to Make Money from Website According to You?
I know there are so many ways to make money from website but my favorite Affiliate Marketing.
13. Do you Think Blogging can be Opt as a Career?
Big yes for choosing the Blogging as your full time job or your career. If you do Blogging with passion and do not take it for granted.
14. Which are Your Most Favorite Blogs?
Tecktricksworld, Buzzwomen.com, PC-Table and many more
15. Who are your Role Models in Blogging?
Atish Ranjan, Abhilash Thakur, Nirmala and Nitin Aggarwal
16. Any Blogging Tips You want to share with Our Blog Readers
Blogging will take you to that level where you have never imagined going. It is a word of encouragement for everyone and the excellent source of personal development and growth. There is always a great mind behind the success so generating it can be quirky. Let the achievement and success, be your followers. Happy Blogging and I enjoy immensely reading the WorthofBLog especially top ten lists so it is excellent recommendation.